Careers at Victoria Hotel
We know it's really the people that make the place.
With that in mind, we strive to build a team of awesomely fun and outstandingly talented people
that make our guests feel like they're at home, even when they're far away from it.
But working at the Inn at Laurel Point isn't all about the guests, (just don't tell them that…) It's also about you!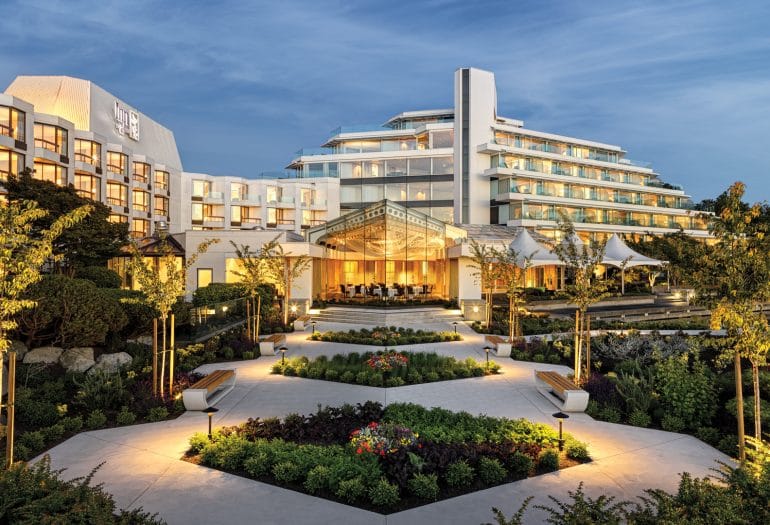 Want to work with us?
Do you like competitive wages, a comprehensive benefits package, and an RRSP contribution plan to help you save for your future? We've got those things. Do you also want opportunities to grow in your career, without having to do the dreaded job hunt each time? We've got that too! Our staff gets access to skill and advancement training programs, workshops, and cross-training sessions to help them reach their next big goal.
Let's talk perks
With a small and dedicated staff, some work days feel more like spending time with friends and family. Enjoy a complimentary staff meal made fresh and delicious, daily. You'll also get that Friends & Family hotel discount for when you need a proper rest too (or when the in-laws come to visit…).  Need a staycation?  We've got you covered, after your 1-year work anniversary, enjoy a complimentary one night stay including breakfast for 2.
With shower, locker, and bike storage facilities on-site, you can walk, run, or bike to work – and trust us when we say you'll probably want to. The hotel's spectacular location close to downtown Victoria lets you take the scenic route past the Inner Harbour on your way to work. Or choose the quieter side streets of residential James Bay nearby to avoid the waves of tourists. You decide, but either way, you'll arrive energized.
With complimentary parking in the off-season and on non-restricted days, as well as a 50% staff discount for Aura Waterfront Restaurant + Patio and other industry discounts, you'll get spoiled just as much as our guests do!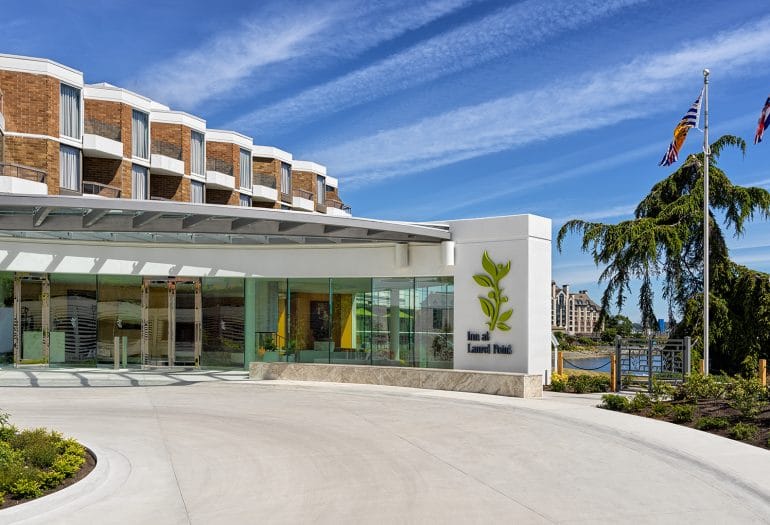 More than just a job
Of course, benefits and perks are important, but working at the Inn is about more than the paycheque. The Inn's original founders, Paul and Artie Arsens, took pride in creating a rewarding work environment for their staff and we carry on that tradition to this day.
Operating as a locally-owned social enterprise since 2008 and becoming BC's first carbon-neutral hotel in 2009, we're committed to corporate social responsibility when it comes to our employees and our community.
Our workplace fosters a fun, friendly culture that celebrates diversity. (We've even won awards to prove it!) With an Employee Recognition Program, annual events like our summer volleyball team, BBQs, our special year-end gala, and lots of opportunities to give back to the community at large through hotel-led fundraisers, you'll feel great at the end of each workday knowing that you're doing more than just a job. (Some of us feel so great that we've been here for decades – really!)
Begin your career at the Inn
If that all sounds good to you and you'd like to work with us too, check out our open positions and apply now to start your career at the Inn at Laurel Point. We're sure you won't regret it.
Apply to Inn at Laurel Point