Planning on hosting a corporate event or board meeting and looking for the perfect meeting space in downtown Victoria? Can't decide which toothy stock photo of "colleagues at a corporate event" looks most sincere? Or have you been staring at cookie-cutter conference rooms for long enough that they've all turned into one dreary grey mess? Stop beating your head against the desk and book your next meeting at the Inn at Laurel Point.
With over 10,000 square feet of fully equipped event space available for annual conferences or galas, monthly corporate meetings, once-in-a-lifetime wedding receptions, and anything else you might need a meeting venue for, you'll be glad you found us. We sure are!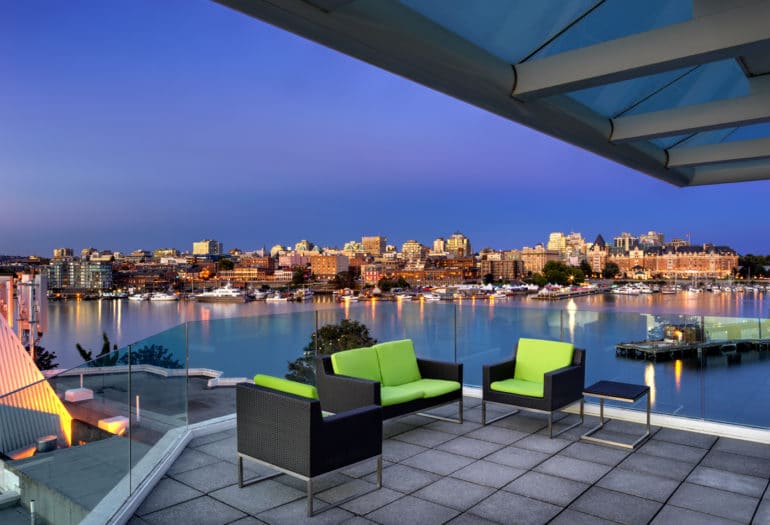 Meet our meeting rooms
The Inn's conference rooms range in capacity from 10 to 200 guests so you can decide how many of your closest work friends are invited to the occasion. With plenty of natural light and fresh ocean air keeping your neurons firing on all cylinders, this might be the meeting you finally pitch your great idea in! And if not, no worries – you'll get 'em next time, tiger!
From our floor to ceiling windows in the Terrace Ballroom and Spirit Rooms to our private meeting space in the Merino Rooms, conferences and corporate meetings with 100 to 200 attendees will love the Inn's picturesque location (so much so that you might have a hard time getting them back home).
For smaller parties of 10 to 30, Studio 150 and the Stone Room are ideal for strategy meetings and more concentrated huddles. And for something totally unexpected, the Rogers Suite is the meeting room of your dreams. Located on the top floor of the Inn and featuring 180° views of downtown Victoria, the inner harbour, and the southern tip of Vancouver Island, this intimate conference or event space will knock everyone's socks off. We highly recommend making use of the outdoor patio space available, particularly during BBQ-ing weather (which is more often than not around these parts).
Service that exceeds your expectations
If our hotel's stunning surroundings and versatile, fully-equipped meeting spaces haven't convinced you to book your next meeting at the Inn at Laurel Point yet, then let us up the ante with an offer you can't refuse…
…we'll do most of the heavy lifting for you! You'll love working with our expert team of onsite meeting planners to arrange a great conference, fancy gathering, or work-related event. We'll love helping you put together something that you can add straight to your "why I deserve a raise" sheet. And everyone attending will love filling break time with food worth publicly drooling over. (We double-dog dare you to find catering that's better than ours.)
At this point, the only thing you should be humming and hawing over is whether to go ahead and book next year's meeting rooms already.
Book Your Meeting Today
We are confident that no matter the occasion, we have the right space to suit your needs.
Testimonials
The venue and service is above and beyond at the Inn at Laurel Point in Victoria. Amazing service for hosting a large event gathering, attention to detail, and a dedication to professionalism that is top notch. Thank you to Krista, Cassie, and all the folks who helped make our council meeting and awards gala a huge success. The food was way better than the typical hotel food at events, it was delicious! It was our first in-person gathering since before the pandemic, it was so much more special because of the location and service. We will definitely be back next year!

Conference

I have worked with Kyla-Rae in the past and she is the reason I selected the Inn at Laurel Point. I had my boss with me on this trip so the pressure was on for a successful event and I knew that I'd be in good hands with Kyla-Rae and her team.

Meeting

Seana, Lesley and Sarah (who was the lead person on the night) were fabulous. Leading up to the event and the event itself was so smooth, professional and just so easy for us. The staff made us feel very welcome and problem solved with us when we had a student show up without a ticket. They were amazing!

Dinner & Dance