Catering Menu at Downtown Victoria Hotel
Food so good you'll find any excuse to have another meeting.
Our standards are high and yours should be too.

Like everything else we do at Inn at Laurel Point hotel, we go way beyond standard,
and dining is no exception. Every creation, every morsel, is delivered with playful enthusiasm and creative excellence.

Inn at Laurel Point's Culinary Program
The Inn's scenic setting, complete with natural beauty and harbour views of downtown Victoria, will be just as memorable as the food you eat while you stay with us.
We're serious about food. Really serious. So serious, in fact, that we've established our very own culinary program, keeping our long tradition of creative excellence in making award-winning food going.
We take the conferences, board meetings, receptions, weddings, and other special events that we have the pleasure of hosting seriously too. That's why our staff prides itself on delivering an unforgettable culinary experience to our guests, no matter the occasion.
You'll get to enjoy your event while we do the cooking and the cleanup.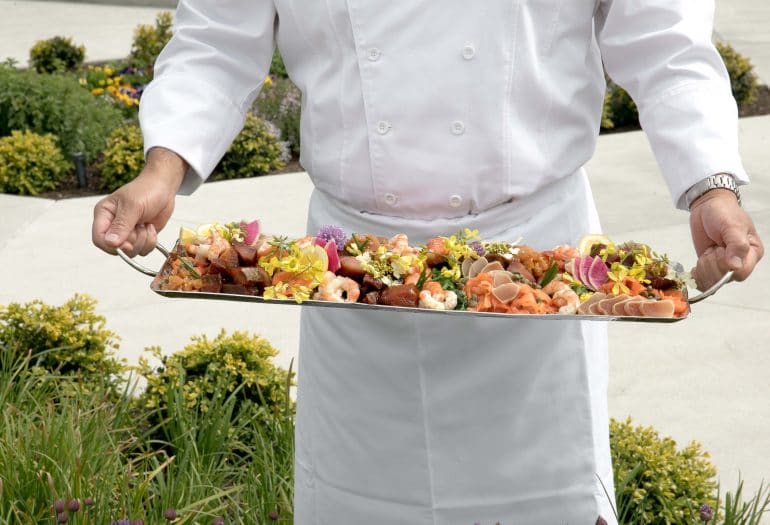 Closer. Fresher. Better.
Our culinary team will dazzle you and your delegates. We select local and organic foods rather than those from afar. Like pork raised on Vancouver Island farms, fish caught off of our shores, locally tended produce, and herbs from our very own garden. We even source vintage wines from around the block, and microbreweries that produce aged ciders and stellar beers.
Our ingredients are locally sourced and ethically harvested whenever possible and our food is always made fresh, served ready to enjoy. Our exceptionally talented culinary team get to practice their creative skills as they make artfully displayed dishes that you'll devour in no time. (Don't worry, we take it as a compliment.)
If you're a foodie, we're certain our kitchen will blow your mind with both flavour and presentation. From our local ingredients to our innovative takes on classic dishes from home and abroad, you'll be coming back for second breakfast and third lunch. (No judgement here, we're on a fourth Inn-baked chocolate croissant-break…)
Catering that's both delicious and nutritious
If you eat 'cause you have to or you have dietary restrictions to take into account, we've got you covered too. Our passionate chefs take the time to turn any special requests or food-related limitations into something you'll want more of – and not just out of politeness either. You'll enjoy your meal as much as we enjoy making it.
Our catering menu will have you saying "no, thanks" to dry meeting sandwiches and saying "heck, yes!" to yummy-in-your-tummy double smoked bacon cheddar puffs. Whether it's a breakfast, brunch, lunch, or dinner buffet, a themed break with sweet and savoury snacks, a sit-down served meal, or a full-blown reception, we'll make you love food more than you thought you could.
Let the happy food dances commence!
Cakes and pastries and breads - oh my!
Want to have your cake, and eat it too? You're in luck! For conference themes, weddings, graduations, retirements, baby showers, or whatever other special occasion you're looking to commemorate with us, our pastry chef and her team will bake to your heart's content.
Our in-house bakery also makes delectable fresh pastries and breads every day. (We weren't joking about the croissant. It's kind of a problem.) Forgetting your FitBit somewhere is highly recommended during your stay with us. You're in relaxation mode, after all!
Book Your Event Today
We're confident that no matter your occasion, we have the right space and the best menus to suit your needs.