Luxury 5 Star Hotel Suites
Looking forward to kicking off your shoes, putting up your feet,
and decompressing after a long workday or a jam-packed day of exploration?
Who can blame you - there's nothing like it.
You know what makes that feeling of getting in the door even better? Not having dishes waiting for you in the sink or chores that need to get done around the house. When there's nothing to distract you from going full-steam ahead to relaxation station, that's a real luxury.
Choosing the best hotel room during your stay in downtown Victoria is the first step towards tranquility at the end of a busy day and staying at the Inn at Laurel Point gives you the real deal – a luxury 5 star hotel suite experience that's full of surprises.
Here's what our specialty suites have to offer.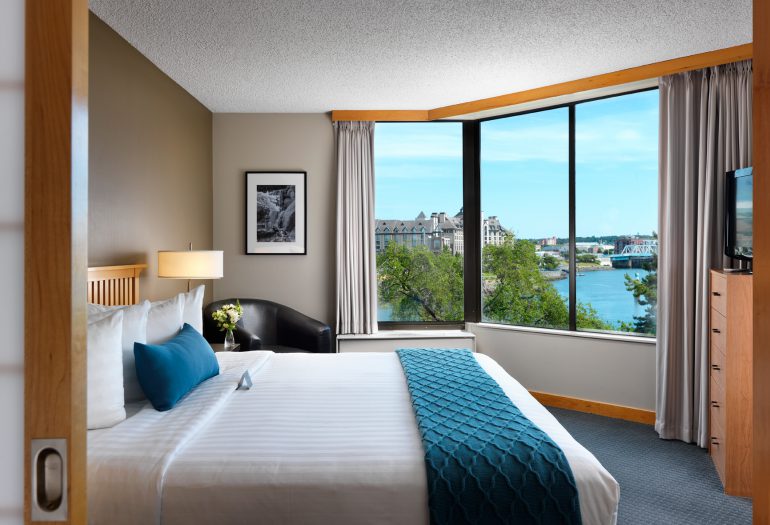 Hospitality Suite
Our Hospitality Suite offers loads of space and amenities that will make it feel like home. Perfect for families or friends that are travelling together, the suite has a private bedroom with a king-size bed and a large living room area, complete with a double-size pull-out sofa bed and comfy club chairs, that's great for planning the day's adventures. If you're searching for a little inspiration, step out onto one of two standing balconies and get motivated by amazing views of Victoria's inner harbour and the park peninsula that surrounds the Inn.
With a wet bar and microwave, a small fridge (and a second fridge just for the travelling wine collection), in-room coffee and tea, and access to our in-room or onsite dining options, you might even be persuaded to reconsider the day's plans…
Bedroom Suite
In the market for something a little more restful? For an intimate luxury vacation (or staycation – you've earned it!), look no further than our Bedroom Suite. Whether you're travelling with your best pals, your sweetheart, or you're just enjoying some well-deserved solo time, this suite's made for a serene stay.
With a luxuriously spacious, bright king-size bedroom and separate living area that has a queen-size hide-a-bed for additional sleeping options (you know, in case you need a change of scenery), the Bedroom Suite invites you to stay in bed for just five – or better yet, make it fifteen – more minutes.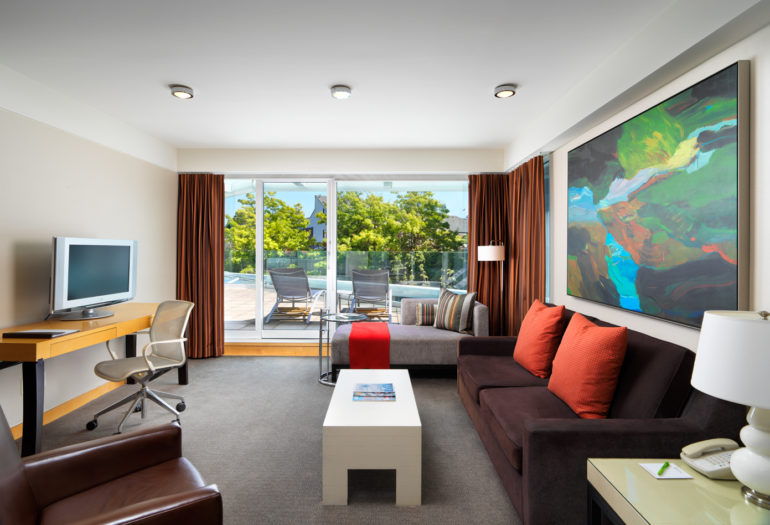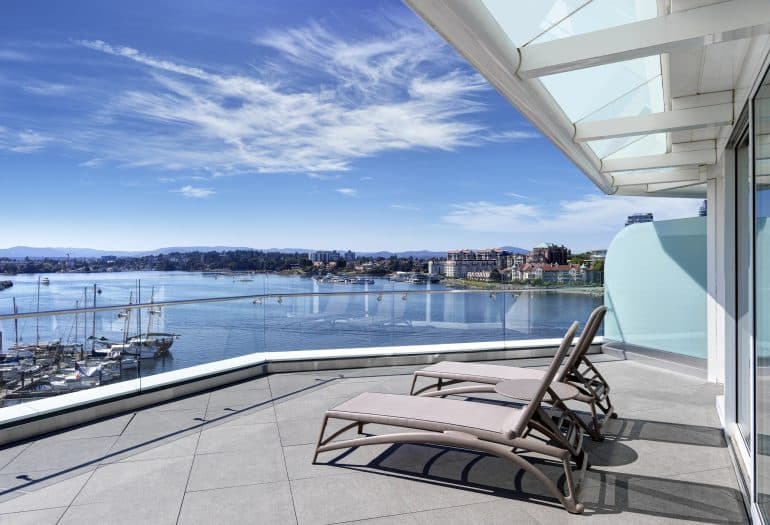 Terrace Bedroom Suite
For the full 5 star luxury hotel room experience, particularly if you're celebrating a special occasion, the Terrace Bedroom Suite has everything you need and more. Overlooking our private gardens and offering expansive views of Victoria's outer harbour, this suite is ideal for a romantic couple's getaway.
Get a great night's sleep in the triple-sheeted king-size bed, lounge in the separate living area, or simply spend some quality time connecting in this sweetly serene and ultra-spacious hotel suite. A deep soaker tub and separate walk-in shower in your personal palatial bathroom will help you spiffy up for whatever your day (or date night) has in store. With a full private balcony that has seating and wonderful water and city views, you'll have the perfect place to sip your morning coffee or enjoy a nightcap before getting back to where you know you'd rather be – in bed.
Featured in some of our Wedding Packages, newlyweds and honeymooners tend to agree that 5 stars might not even be enough to rate this stay.
Dream Suite
Spoiler alert: we named it the Dream Suite for a reason. Located on the 6th floor and overlooking our private gardens and outer harbour, this bright, spacious suite is a dream you'll never want to wake up from.
Soak in the double jacuzzi tub with your sweetie by your side as the boats sail by. Enjoy a sunset outside on your very own big balcony as harbour planes take off and land in the distance. Or spend some solo time in the separate living room to pinch yourself awake…
Included in our I Do for Two Package, newlyweds and honeymooners quickly realize that this suite will ensure your stay will be a dream come true.
Executive Suite
In Victoria for business, not pleasure? The Executive Suite will help you forget about the former as you maximize the latter. Whether you're looking for a more private meeting space to host an intimate business function or small event or you're in search of a spot to decompress in the lap of luxury, this hotel room offers it all.
With inner and outer harbour views that are ready to impress, a massive wrap-around balcony with seating, separate sleeping and living spaces with amazing amenities, and exquisite accents that are sure to engage every guest, this luxury suite turns any business trip into the ideal balance of work and play, lickety-split.
Arsens Suite
This two-level panoramic penthouse suite redefines what luxury means. The lower floor features a powder room, wet bar, and ample living space with a terrace balcony that overlooks Victoria's outer harbour, the Sooke Hills, and the Juan de Fuca Strait beyond.
Take the spiral staircase up to the second floor where the king-size bedroom and wrap-around balcony with downtown Victoria views await. Relax in the double jacuzzi tub, treat yourself to some delicious in-room dining, and thoroughly enjoy your stay in this luxurious home away from home. What more could anyone ask for?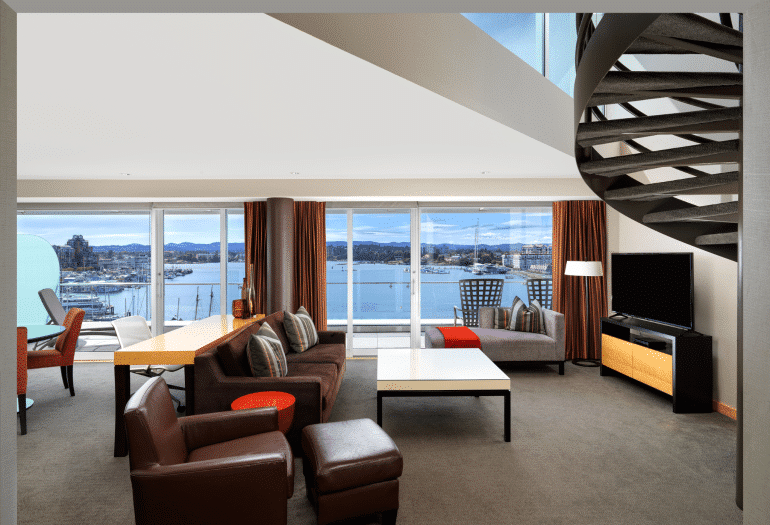 Treat yourself to a luxury 5 star hotel suite
Whether it's business or pleasure, a luxury staycation or playcation, or a unique event you can't wait to enjoy, our specialty suites have something to offer every guest. Relish in downtown Victoria's charm from the comfort of your balcony and experience rest in rooms that exude relaxation.
Start getting reacquainted with what it means to really treat yourself.