Meeting Rooms at Downtown Victoria Hotel
No stuffy, cramped meeting rooms or stifling surroundings here; just natural light and fresh ocean air.
Our team of professional meeting planners will help you craft your event, we know your delegates will be thrilled with your choice of a downtown Victoria conference hotel that combines the best in service, culinary and of course views!
We've got the whole kit and caboodle
Complete with audiovisual setup, blackout screens, breakout rooms, and plenty of other options, our hotel's full-service meeting facilities are ready to handle everything that comes with a travelling (business) circus. But we bet that's what all the hotels say, right?
The Inn's conference rooms are a little bit different than your average plain hotel chain. Our one-of-a-kind meeting areas feature ocean views and lots of natural light. The kitchen offers a remarkable culinary experience that will make you question every other catered event you've ever attended. And, with a warm and welcoming atmosphere, our spaces facilitate productivity and relaxation at the same time.
This time around, plan an event that your team will keep bringing up for years to come for reasons you want to remember, for a change.
Terrace Ballroom
Capacity:

215 GUESTS
A Victoria meeting room, flooded with natural light and breathtaking views of Victoria's harbour, the Terrace Ballroom at Inn at Laurel Point is without a doubt a meeting room that your delegates won't soon forget.
Overlooking the hotel's garden and to the outer harbour, this event space is perfect for everything from a gala dinner to a keynote address. Located on the main floor, the Terrace Ballroom has atrium style floor to ceiling windows, making the room feel larger than life. If you're lucky, you might even catch one of the spectacular sunsets the west coast is known for.
---
Spirit Room
Capacity:

180 GUESTS
Floor to ceiling windows in this downtown Victoria meeting venue will keep your delegates engaged regardless of the topic. Equipped with the latest in high-tech and high-speed communications, and state of the art audio visuals, this space can handle anything you throw at it. Comfortable and flexing configurations for seating and staging.
---
Rogers Suite
Capacity:

40 GUESTS
This top-floor meeting location offers an unparalleled space, as well as a patio that is much more than a standard outdoor gathering space. With a 180-degree wraparound view of Victoria's Inner and Outer Harbours, any event held here will be sure to impress. Use this space for your next board meeting, product launch, client appreciation event or intimate dinner party.
---
Merino Rooms
Capacity:

91 GUESTS
The Merino Meeting Rooms provide privacy for guests looking to discuss confidential or sensitive business among groups. These rooms can be divided into three small meeting rooms; our meeting planners often tell us how much they love this private meeting space at Inn at Laurel Point.
---
Stone Room
Capacity:

35 GUESTS
Located on our main conference floor, the Stone Room promotes intimacy and relaxation. With its floor to ceiling windows, overlooking the Inn's tranquil gardens and reflecting pool, this meeting room is ideal for board meetings, break-out sessions and dinner meetings – it even has a private patio.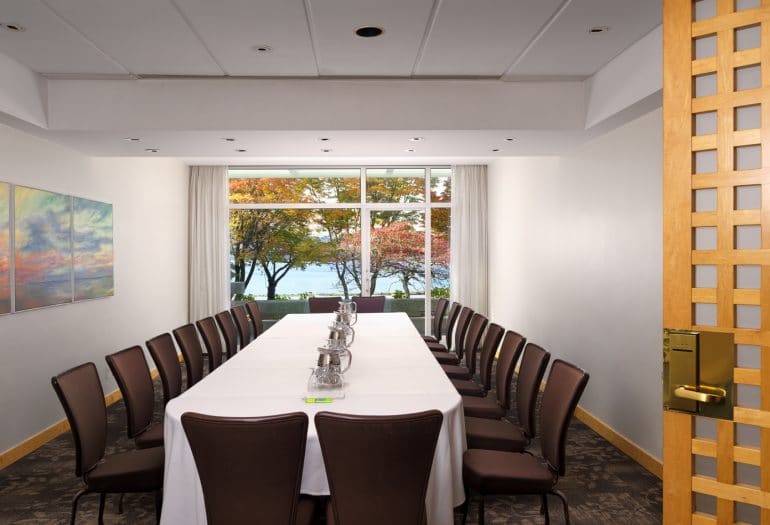 ---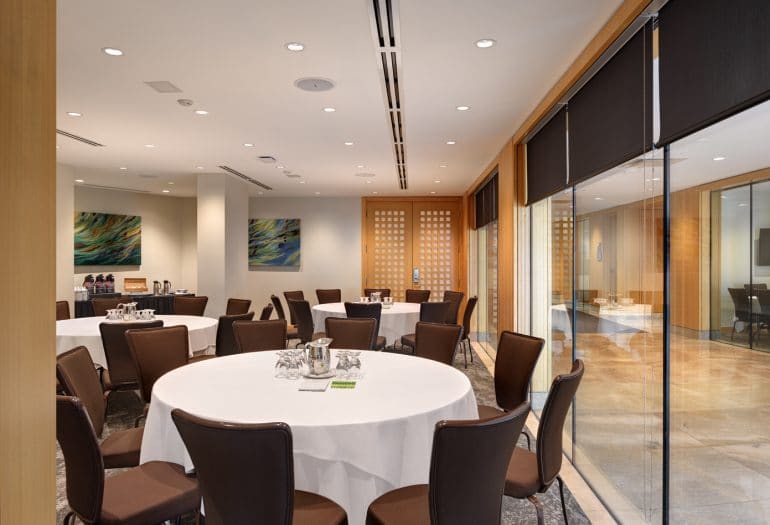 Hunt Room
Capacity:

46 GUESTS
This ground floor meeting room boasts floor to ceiling windows and filtered natural light. Equipped with the latest in high-speed communications and state of the art audio, this meeting room is ideal for board meetings, break-out sessions and dinner meetings.
---
MacKenzie Room
Capacity:

15 GUESTS
This main conference floor room is adjacent to the Spirit Room, ideally situated for a registration desk, office, executive meeting room or coat check. Equipped with a 55" TV and digital music channels, the MacKenzie room is conveniently versatile.
---
Martin Room
Capacity:

8 GUESTS
Located on the main floor, this intimate meeting room is equipped with a 55" TV and digital music channels. The Martin Room can be set for board meetings, break-out sessions and dinners.
---
Hello Jennifer and Krista, I wanted to thank you again for a wonderful experience on behalf of my entire group. They were thrilled with the resort, the staff, the atmosphere and the entire experience, especially when compared with past years. Thanks again to you both, and to each and every one of your colleagues. You seem to have a great communication system and a friendliness that is beyond expectations, and quite contagious! I'm glad we chose to host our event at the Inn at Laurel Point!
Book Your Meeting
We are confident that no matter the occasion, we have the right space to suit your needs.