If our stunning oceanview rooms and amazing list of amenities haven't convinced you to book a room in downtown Victoria yet, we're here to sweeten the deal with everyone's favourite – food!
Our talented team of incredible chefs create a culinary experience that leaves guests so much more than satisfied. From the hardcore foodies to the pickiest of eaters, our team works hard to ensure that every meal served at the Inn is lick-your-plate-clean good.
Aura Waterfront Restaurant + Patio
Inspired by their love of food from around the world, our chefs combine regional, farm-direct ingredients with bold and unexpected international flavours. With a curated wine, craft beer, and cocktail list to pair with small shareable plates, and an incredible view of Victoria's Inner Harbour to lose yourself in between bites and sips, the freshly energized aura of Aura will leave you feeling replenished in more ways than one.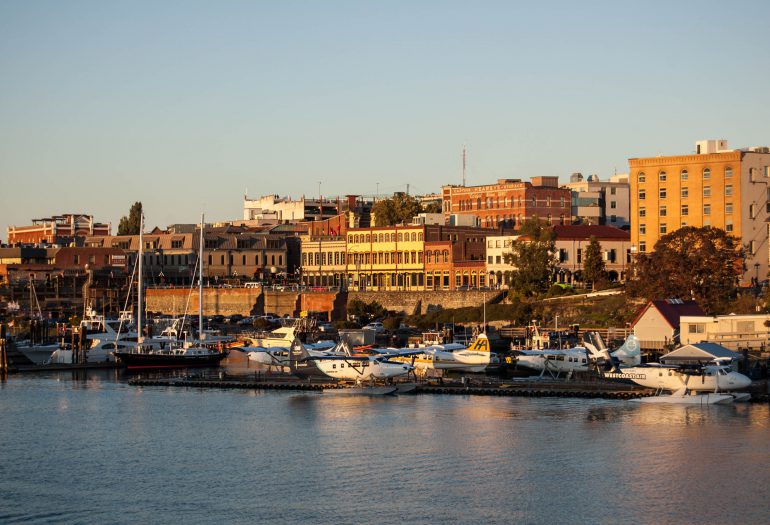 HOURS
Breakfast
Friday to Monday
7am-11am
*Breakfast is closed Tuesday, Wednesday, Thursday,
however in-room dining is available every day for hotel guests
BRUNCH
Saturday-Sunday
11:30am-3pm
HAPPY HOUR
Daily
3pm-5pm
DINNER
Daily
5pm-9pm
Inn at Home
Our contactless curbside service was so successful that we introduced Inn at Home – our online shop, offering heat & serve meals, pastries and goodies all through our contactless curbside service.
Pre-Order today and check back for seasonal treats.
Inn Room Dining
Inn Room Dining is available for breakfast & dinner. Classic dishes served with Pacific Rim-inspired twists will delight the senses before a bite even enters your mouth. And then… wait for it… Welcome to flavourtown!
Daily
Breakfast   7:00 am – 11:00 am
Dinner   5:00 pm – 9:00 pm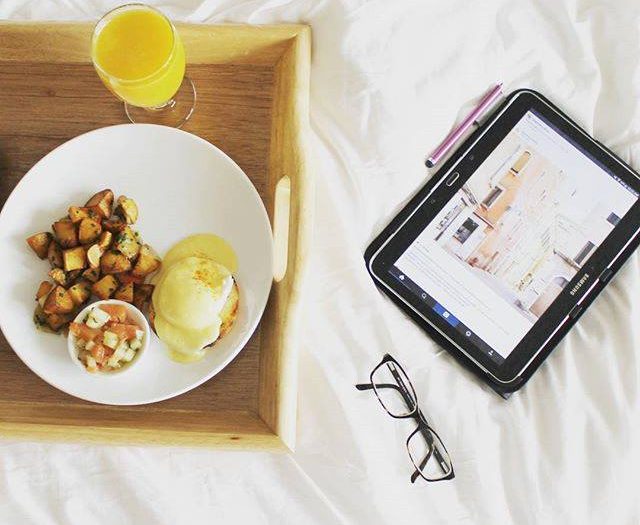 Between 7:00am and 11:00am, Inn-Room dining serves dishes that'll give you the energy you need to brave whatever yours brings.
Start off with a cup of organic fair trade coffee, a fresh-squeezed juice, or a lovely locally blended Silk Road tea. Be surprised by the sesame ginger kale salad accompanying the quintessential options of Eggs Benny, build-your-own omelet, or our very own Point Breakfast. Enjoy a lighter meal with a classic continental spread, fruit plate, or vegetarian bowl. Or fancy it up with some steak and eggs. Even the usually humble porridge will blow you away, thanks to the accompanying berry compote, granola, and vanilla mascarpone. (We mentioned twists, didn't we?)
Start off the main event with a small plate of smoked tuna, fresh BC oysters, or a cheese selection. Get your greens in with one of our salads or fresh summer mixed greens salad. And then pick from a variety of enticing entrees that will leave you debating whether or not to book an extra night just so you can order your next-favourite option for dinner tomorrow.
From Sicilian salami flatbread to kimchi braised short rib or a burger topped with 5 spice bacon, we've got all of the usual bases covered.
Made Inn-house by our very talented Pastry Chef, Kimberley Vy, our dessert options are to die for. We've got your inn-made cookies and banana mille feuille with Orleys ganache (oh la la). Our Inn-made vanilla or chocolate ice cream is always a nice treat, or spoil your sweet tooth with a fresh fruit or cheese plate instead.
For the kiddos
If you're travelling with the little munchkins, we know feeding time can turn into a real frenzy. For our wee guests aged 11 and under, we've got special kid-friendly menus for breakfast and dinner.
From dawn to dusk, the Inn's dining room has lots of options for every guest, regardless of age, dietary restrictions, or particular flavour palate. Come down (or dine Inn-room) and enjoy a real yummy-in-your-tummy culinary experience!