If our stunning oceanview rooms and amazing list of amenities haven't convinced you to book a room in downtown Victoria yet, we're here to sweeten the deal with everyone's favourite – food!
Our talented team of incredible chefs create a culinary experience that leaves guests so much more than satisfied. From the hardcore foodies to the pickiest of eaters, our team works hard to ensure that every meal served at the Inn is lick-your-plate-clean good.
Aura Waterfront Restaurant + Patio
Inspired by their love of food from around the world, our chefs combine regional, farm-direct ingredients with bold and unexpected international flavours. With a curated wine, craft beer, and cocktail list to pair with small shareable plates, and an incredible view of Victoria's Inner Harbour to lose yourself in between bites and sips, the freshly energized aura of Aura will leave you feeling replenished in more ways than one.
Inn Room Dining
Inn Room Dining is available from 7am until 9pm. Classic dishes served with Pacific Rim-inspired twists will delight the senses before a bite even enters your mouth. And then… wait for it… Welcome to flavourtown!
Daily
Breakfast   7am – 11am
Dinner & Dessert   5pm – 9pm
Overnight Munchies  9pm-7am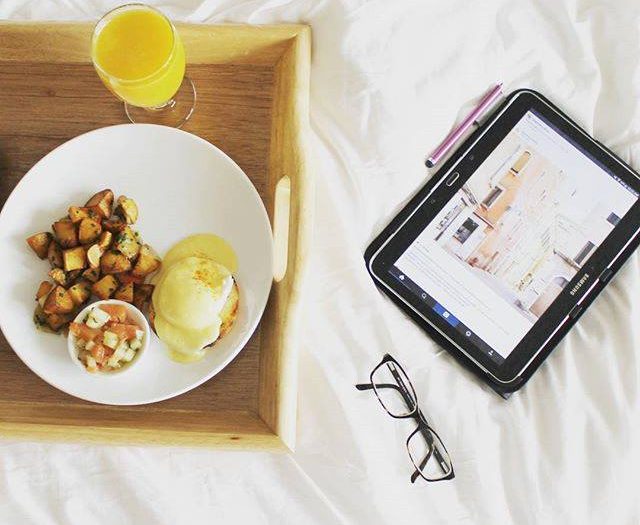 Breakfast
It's (arguably) the most important meal of the day.
And if you haven't mustered up the courage to get out of bed, that's okay too! Our Inn-room dining services mean a friendly staff member will deliver meals right to the comfort castle of your suite. (For our night owls or more morning-averse guests, booking a Bed & Breakfast Package from the get-go will have you resting easy knowing the breakfast you spent the night dreaming about will be waiting for you once you open up those sleepy eyes.)
Between 7:00am and 11:00am, Inn-Room dining serves dishes that'll give you the energy you need to brave whatever yours brings.
Start off with a cup of organic fair trade coffee, a fresh-squeezed juice, or a lovely locally blended Silk Road tea. Be surprised by the sesame ginger kale salad accompanying the quintessential options of Eggs Benny, build-your-own omelet, or our very own Point Breakfast. Enjoy a lighter meal with a classic continental spread, fruit plate, or vegetarian bowl. Or fancy it up with some steak and eggs. Even the usually humble porridge will blow you away, thanks to the accompanying stonefruit compote, pecan praline, and vanilla mascarpone. (We mentioned twists, didn't we?)
Start off the main event with a small plate of tuna poke, fresh BC oysters, or a cheese selection. Get your greens in with one of our salads or enjoy a nice bowl of soup. And then pick from a variety of enticing entrees that will leave you debating whether or not to book an extra night just so you can order your next-favourite option for dinner tomorrow.
From torched BC salmon and classic fish & chips to oven-roasted chicken breast or a burger topped with szechuan bacon, we've got all of the usual bases covered. But for the more sophisticated diner, we also offer a vegetarian gnocchi, a beef flank steak, or a linguine carbonara with scallops and double-smoked bacon. (Yes, you can smoke bacon twice and yes, it is double the deliciousness – don't say we didn't warn you.)
Made Inn-house by our very talented Pastry Chef, Kimberley Vy, our dessert options are to die for. We've got your chocolate brownie with coffee cremeux and banana mille feuille (oh la la). And, talk about unique, the the salted egg custard profiteroles, trust us, you've never had a profiterole quite like it. Our Inn-made vanilla or chocolate ice cream is always a nice treat, or spoil your sweet tooth with a fresh fruit or cheese plate instead.
For the kiddos
If you're travelling with the little munchkins, we know feeding time can turn into a real frenzy. For our wee guests aged 11 and under, we've got special kid-friendly menus for breakfast and dinner.
From dawn to dusk, the Inn's dining room has lots of options for every guest, regardless of age, dietary restrictions, or particular flavour palate. Come down (or dine Inn-room) and enjoy a real yummy-in-your-tummy culinary experience!