Our Story
Yes, everyone says it. It's one of those old clichés: "our team feels like a family."
But in our case, that old cliché is based on a whole lot of truth.
Our story begins like many family stories do – from a great love. Paul and Artie Arsens, the founders of the Inn at Laurel Point, were partners in life and were the brains, heart, and soul behind our hotel in downtown Victoria. The vision they had and the legacy they left is one that we carry forward now that they've both gone into the great beyond. They were and remain an integral part of our story here at the Inn.
Paul and Artie Arsens
In the days of card games with friends on a Thursday night (for some pretty big stakes, if we do say so ourselves) and Sunday walks around town with your sweetheart in search of new art pieces, Paul and Artie's love was as fierce as their business acumen. Together, they bought and built the Inn into the welcoming, naturally stunning, independently run, and service-oriented place it is today.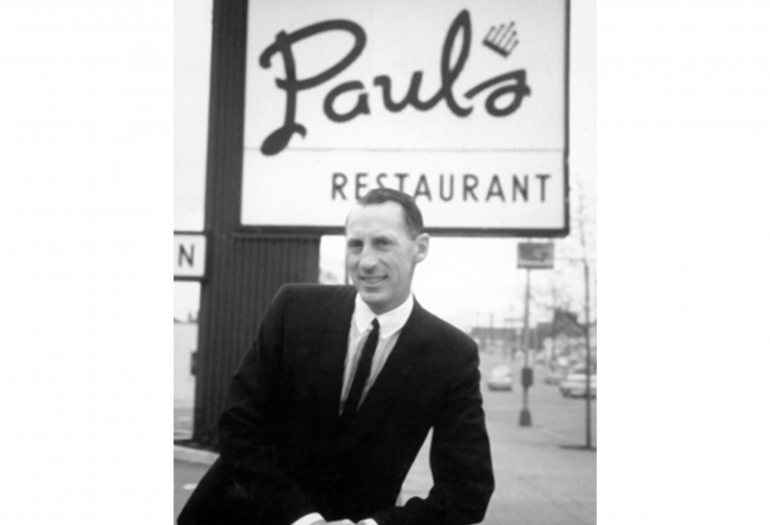 Paul Arsens made his career as a restaurateur and hotelier in Victoria. His Greek ancestry gave him his entrepreneurial spirit, as well as his deeply rooted compassion. In 1938, Paul took over operations of the Sussex Café and the Dominion Restaurant, both of which were opened by his father, George. Shortly after, Paul incorporated Paul's Restaurants Ltd. In 1955, ground broke on the construction of Paul's Drive-In. The eponymous restaurant opened in 1956 and established Paul's presence in the city (in part, thanks to the 30 ft. tall sign that could be seen up and down Douglas St.) for 64 years.
In 1964, three big events happened in Paul's life. The year kicked off with an eight-day January trip to Las Vegas, Disneyland, and San Francisco for Paul and 33 of his employees – the first of many epic all-expenses-paid trips for staff. Paul's Crown House Restaurant opened at 3075 Douglas St. in 1964 too (and would stay open for a quarter of a century, closing its doors in 1990), with a full service bar that could sit up to 150 customers. Finally, the year ended with a wedding. Paul married his third wife, Arthura (Artie) Florence Gertrude Morrison, in December after knowing her for decades; Artie initially worked for Paul's father, George.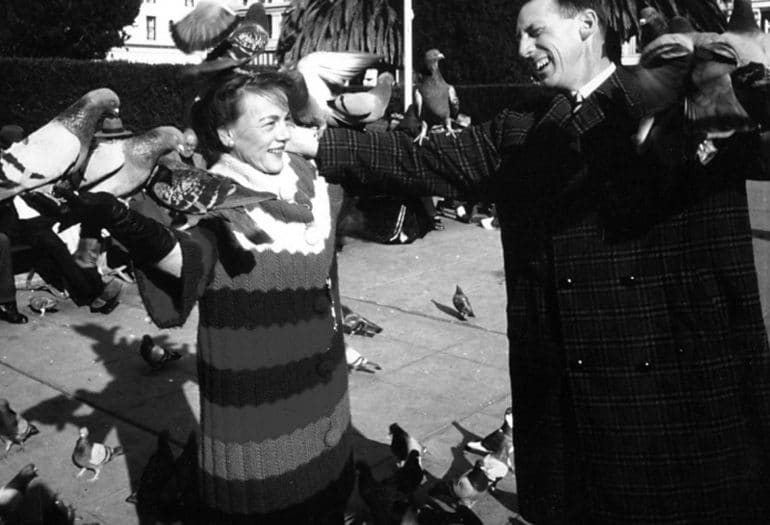 As the restaurants grew and business boomed, Paul and Artie decided to expand Paul's Drive-In by adding guest rooms. Opening in 1971, the addition of Paul's Motor Inn welcomed guests to the city for for 49 years. Around the same time, Paul's Majorette Restaurant also opened in what remains today as the Independent Order of Odd Fellows building on Douglas St.
The Upstairs Lounge, as it was originally known, was constructed and opened in 1977 as another addition to Paul's Motor Inn. Paul worked his brilliant marketer's magic and got acts like The Supremes and The Ink Spots to play in the Lounge. Bob Hope and his wife also stopped in for tea at Paul's Restaurant, with more famed names popping in over the years.
With a great business sense and a keen, attentive eye for quality craftsmanship, hard work, and familiar faces, Paul and Artie kept their various enterprises going as they set their sights on a new venture, a grand hotel that sat on a small peninsula known as Laurel Point in downtown Victoria.
The beginnings of the Inn at Laurel Point
In the 1970s, Delta Hotels Ltd. built the original Laurel Wing of the Inn at the mouth of Victoria's inner harbour. Delta Laurel Point Inn, as it was known then, had 127 deluxe rooms, a pool, a café and cocktail lounge, dining rooms and three banquet or event rooms. Paul and Artie bought the hotel and its surrounding property in 1982.
In 1987, the pair asked their friend and famed architect, Arthur Erickson, to design a second wing for the Inn. (Initially known as the South Wing, it was renamed the Erickson Wing in 2007 in honour of the architect.) Legend goes that Arthur lost a game of cards and Paul's debt was to be repaid in the form of a design for the Inn's expansion. Arthur, who had yet to dabble in designing hotels, acquiesced. The expansion was completed in 1989, adding 64 luxury suites to the hotel, as well as new meeting and event spaces, administration offices, and a gift shop that would become Artie's primary domain.
Designed to look like a ship coming into port when viewed from the harbour, the Inn's two halves became whole during our latest renovation and redesign of the entrance lobby, restaurant, and main hallway. To bring the story full circle, the project architect that worked alongside Arthur Erickson during the Inn's expansion, John Graham, is the architect that designed our 2019 renewal. This enduring connection to the Inn is another testament to Paul and Artie who were always on the lookout for kinship with the people they collaborated with and employed.
Building on strong foundations to flourish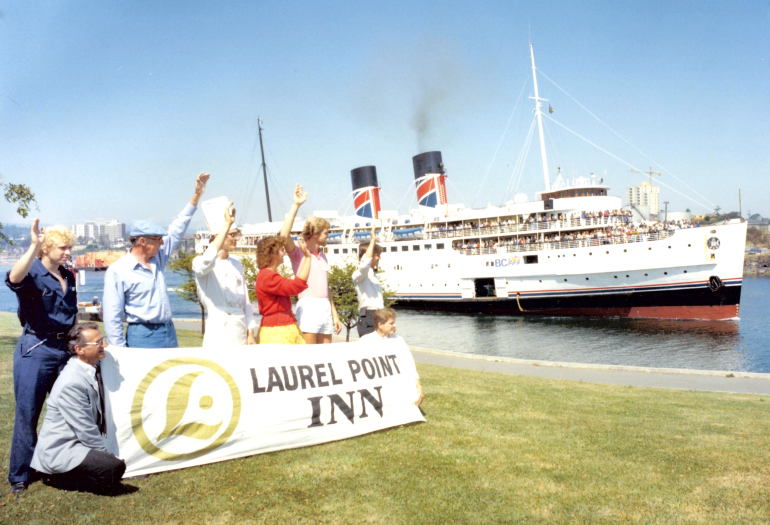 Combined with Artie's astuteness and creative knack for art, Paul continued to come up with brilliant marketing schemes to make his establishments popular with locals and tourists alike, while endearing employees at the same time. A staff favourite was the brief noon break that saw everyone out on the lawn, bowing and waving to the Princess Marguerite steamship as she sailed into the harbour with passengers onboard. The Inn also hosted Body Moves, an exercise TV show filmed on the property, and held a Sunday brunch every week, voted Best Brunch in Victoria for years. A lasting friendship with Jim Ryan, photographer at Times Colonist, helped capture the numerous trips the Arsens took staff on, drawing attention as well.
Over the years and across the businesses, Paul and Artie continued being public people with private lives. Dedicated to their employees, they established profit sharing in the earliest days and always sought to appreciate and give back to the community and people who helped them build up their businesses. Paul passed away in 1997, leaving Artie in charge of operations.
The Arsens Trust
Artie remained the matriarch at the Inn and kept Paul's other entities going with the help of their dedicated teams for another decade. Before her death in 2008, she established a trust that would ensure that the Inn at Laurel Point and Paul's other business endeavours would remain intact under independent ownership.
Aptly, management of the Inn at Laurel Point was taken over by someone with access to the great beyond, The Reverend Canon Ian Powell. A man of faith, we also like to think of him as a man of fate, taking on the role at the Inn in 2006 – just two years before Artie's passing.
In 2019, Canon Powell was the winner of the BC Hotel Association's Hotelier of the Year Award. He's used his time at the helm to pay tribute to Paul and Artie, carrying on their legacy of caring about their employees, the environment, and the greater Victoria community.
Our latest renewal brings the story full circle again to complete some of the missing pieces in the ultimate vision that the Arsens had for the hotel.
The Inn at Laurel Point today
In tone with the Arsens' legacy, their strong ties to the community, and their long-lasting relationships with local businesses and artisans, our eclectic team remains independent and just as fun-loving and full of sass as our original owners. Some of us have been here for decades building on our traditions – a testament to the alluring aura created by the Arsens at each one of their businesses. (It's no wonder that our waterfront restaurant just so happens to be called Aura…)
For Paul and especially Artie, who lived her last years at the Inn, this place became home and we, her loyal team, became family. This dynamic couple's legacy lives on in the businesses that are still run through the Arsens Trust. The art that they collected throughout their years of travel around the world together (and sometimes with staff too!) used to hang in their family home and is now proudly displayed throughout the Inn, making up the Arsens Collection. And, most importantly, the values that Paul and Artie built into this place — integrity, charmingly sharp wit, warmth, and a calm sense of comfort — are still the values which guide the Inn's operation today.
Building on the profit sharing that Paul implemented in his businesses from their earliest beginnings, we still function as a social enterprise. That means we strive to maximize profits at the hotel, while also maximizing benefits to the environment and society as a whole. We truly believe that you can't have one without the other and that's why we constantly take on difficult problems and launch new initiatives as part of our commitment to corporate social responsibility.
There's something about this place...
Maybe you'll hear one of our friendly staff members say it during your stay, or maybe you'll feel it for yourself while you're here: there's something special about this place.
It could be the attention to detail at every turn or each room's amazing views of our quaint little city and stunning natural surroundings. Perhaps it's the serene ambience, delicious food, and genuine hospitality we offer. We're pretty certain, though, that it's the decades of thoughtful loving care that have gone into making the Inn at Laurel Point what it is today.
From Paul, Artie, and the rest of our family, welcome to the Inn at Laurel Point.