Corporate Social Responsibility
and the ABCs of sustainability at Inn at Laurel Point
From corporate social responsibility (CSR) to environmental, social, and governance (ESG) principles to sustainable development goals (SDGs), we know the ABCs of sustainability.
That is why we've operated as a social enterprise since the earliest day of our existence, thanks to our founder, Paul Arsens, and his committed belief in running businesses using a profit sharing model for employees.These days, potential employees ask about our responsible, sustainable practices and want to work here because of them.
Besides sharing profits by reinvesting them into the property and facilities, the colleagues that keep the Inn sparkling like a pearl on the shoreline, and the community that supports and sustains us, we make lots of other efforts to be socially responsible corporate citizens. Here are a few.
The SustaINN Team 2030
As part of Project 2030, we're establishing the SustaINN Team, dedicated to furthering the 2030 vision towards a luxury hotel that doesn't compromise on guest comfort or climate action. We believe in regenerative travel that leaves the earth feeling as good as guests do after a stay with us, and we're building a dedicated team to keep up the great work.
One to two team members from each department will regularly meet and will incorporate a few additional responsibilities in their day-to-day work. They'll be champions of sustainability initiatives within their departments, bringing the latest information from the group to the rest of their colleagues during dedicated time in department meetings. Being compensated for their time and effort, the SustaINN Team will also be working to bring ideas for improvements from each department back to the ensemble to be discussed and considered for implementation.
We've added a Sustainability lead at the Inn. In addition to their main position, this person will be responsible for overseeing all sustainability initiatives and certifications, as well as running the SustaINN Team. They are in charge of running regular meetings, overseeing green programs and audits, organizing SDG Days, and supporting our staff and sustainable purchasing and operating practices in their implementation and maintenance. We'll keep track of our progress through quarterly eco-metrics that measure electricity usage and waste diversion, implementing changes and adjustments wherever there's room for improvement.
Sustainable Development Goals (SDGs)
Maybe you've heard of them before; the United Nations' 17 sustainable development goals were adopted by all UN member states in 2015, with a commitment to achieve these goals by 2030. The goals are meant to foster global partnership, providing "a shared blueprint for peace and prosperity for people and the plant, now and into the future."
As part of our 2030 vision for the Inn, our people, and our community, we're committing to supporting seven SDGs in particular:
[2] Zero Hunger
[3] Good Health and Well-Being
[5] Gender Equality
[8] Decent Work and Economic Growth
[12] Responsible Consumption and Production
[13] Climate Action
[14] Life Below Water
Read more about how these goals are part of best practices at the Inn by seeing how we operate as a social enterprise.
What's a Social Enterprise, you ask?
Read about how the Inn's business structure is slightly different from the average corporation and what that means when it comes to our practices.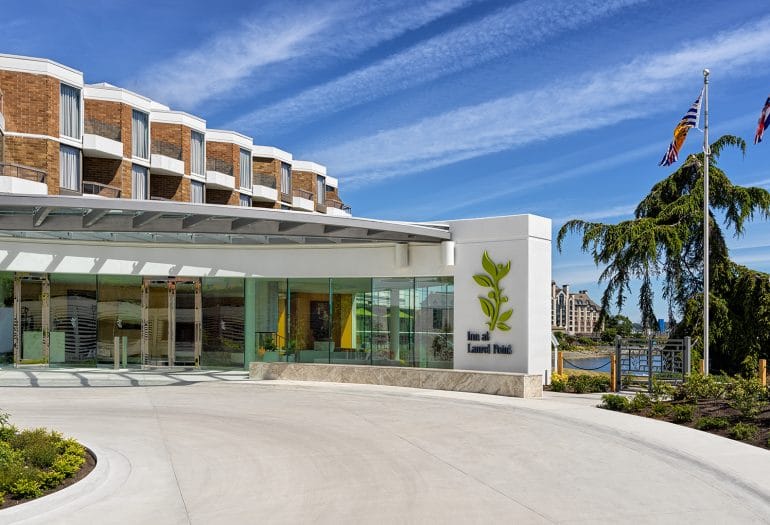 Food, beverage, and events: eat well, be well
Learn how we're changing things up in the kitchen to bring elevated dining experiences to guests using pure ingredients and less waste. The only impact our low carbon menus will have is on your tastebuds.
Partnerships, because sharing is caring
We're pretty great, but there are a lot of other great businesses out there that we love to work with because of their like-minded approach to operating. See why we're proud to call them our partners.
Sustainability
We have a history of caring – about our guests, about the service we provide, and, of course, about the business we continue to build as part of the Arsens' legacy.
Earth Day Every Day Itinerary
Why should we limit the love we have for our planet to just one day a year? We say it should be earth day every day! Visit some sustainability-focused businesses, enjoy the great outdoors and just spend your day appreciating the earth in a variety of activities and places!